Crown Collection | The Euphoria Hot Tub
Seats: 7 Adults | Size: Large (Above 8 Feet)
The Euphoria is a royal party in the making. Featuring a symmetrical layout with seven multilevel seats, including two extra deep therapy seats positioned side-by-side with full-body massage. Every seat can reach the explosive Regal Whitewater-4 jet for powerful leg and foot therapy. Five H.O.T. Zones ensure you and your guests enjoy limitless euphoria!
Jets: 53
Dimensions: 90 x 90 x 36 in H
Dry Weight: 825 lbs (375 kg)
Wet Weight: 3994 lbs (1812 kg)
* Oregon Regional Discount Applied
Size: 90 x 90 x 36 in
Capacity/Seating: 7
Jets: 53
Pumps: 2 pumps – 480 GPM 2 pumps
Electrical: 60 Hz, 240V/30 or 50A 50 Hz
Filtration: 2 filters
Water capacity 380 gallons
Weight Dry/Full: 825/3994 lb
SPECIALIZED MASSAGE SEATS
Specialized Massage Seats offer flexibility and variety. The Deep-Tissue Massage Seat (with Target Touch jets) delivers a focused stream of water ideal for chronic pain or active lifestyles. The Shiatsu Massage Seat (with rotating Pulse Touch jets) helps you relax and rebalance. Thanks to gentle, persistent massage, the Relaxation Massage Seat (with Multi-Touch jets) is a peaceful location to re-center. And the Swedish Massage Seat combines deep-tissue massage with a variety of sensations for all-in-one therapy.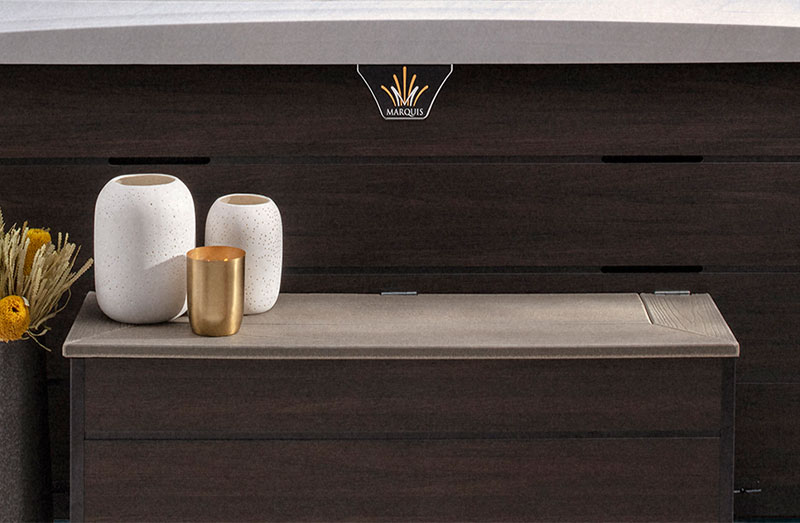 Designed and built by Marquis with the same exacting craftsmanship and durable materials, optional Crown Environments modules perfectly complement your Crown Collection hot tub and offer easier access and extra seating. A selection of entry steps and storage benches elevate your hot tub to an even higher level of sophistication.
With the ability to control audio playback from your Crown MQTouch™ color touch screen, the optional Bluetooth Audio System brings wireless music streaming to your Crown Collection hot tub. Twin speakers and a subwoofer help you relax or get the party started, and offer the soothing benefits of music therapy.
The Jewel LED lighting option adds dimmable multicolor LEDs to the spa interior, dimmable white LEDs to the exterior spa corners, and backlighting to the Dynamic Flow Control valve. Set the perfect mood and save your favorite presets for next time.