The SwimFun is the perfect mini pool for you and your family! Ideal for both fun and exercise, the 12 ft. SwimFun will help you to get active and stay fit while providing fun for the entire family. The SwimFun Model features two swim jets that complement the natural resistance of water, so you get the most out of your workout. Hydrotherapy and relaxation are built-in, with the contoured seating and massaging jets. The SwimFun is the ultimate life of the party with plenty of fun for everyone.
Options Marked with an asterisk ( * ) are Optional
Two 5hp SwimBoost Pump
Producing up to 360 Gallons / minute per jet
One 3hp Buoyancy Pump
Located Close to Jets
Aquacurrent Jet Technology
Two Patented AquaCurrent Swim Jets
AquaBlades shred the vortex created by the pump
Wider, Deeper and Smoother current than any other system on the market
Buoyancy jet backlit to light the swim current
W: Wear your watch on your wrist
A: Analyze your performance
T: Track your goals
C: Compete against other around the world
H: Heart rate training in real time "with vibration feedback"
Providing excellent traction during workouts
Soft touch mat for slip resistant training
The fitness coach that swims with you. Optical display showing time, distance and pace.
A Smart phone app that is designed as a wireless swimspa control that allows you to pick the care settings to suit your schedule, adjust filtration, temperature settings.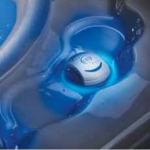 This upgrade to LED lights offers strategically placed lighting the illuminate all of the top mounted control valves. They are brilliantly colored and sequenced through a range of colors when turned on
When mixed with water, ozone is a highly effective oxidizer that assists in removing unwanted contaminants from the swimspa water.
Is a combination of stainless steel oars and resistance bands that attach to swivel anchors allowing you to do the full rowing motion.
ClearStream is the World's Only Mineral-based Water Purification System that uses Nature's way of Purifying Water.
When your installation calls for an auxiliary heater, or swim spas can be built with special plumbing that will easily and reliably allow for addition of the heater.
Swim Noodle
Flotation Belt
Water Dumbbells
Fan Paddles
Gloves
Resistance Band
Get In Touch with Us Today