The Seville™ offers a high-performance lounge with patented Jet Therapy® pillows and barrier-free seating for up to five people. 41 jets and a powerful massage jet pump make for an exceptional hydrotherapy experience.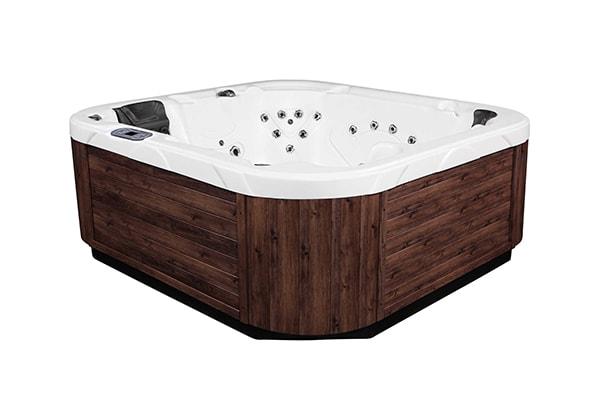 Seats: 5-6 Adults | Size: Small (Below 7 Feet)  |  Est. Monthly Cost: $9.16
Jets: 41
Dimensions: 84″ x 78″ x 30 1/2″ H
Dry Weight: 670 lbs (304 kg)
Wet Weight: 2480 lbs (1288 kg)
* Oregon Regional Discount Applied
Seating Capacity: 5-6
Dimensions: 78″L x 84″W x 31″ H
Number of Jets: 41
Jet Therapy Pillows: 1
High-Performance Lounge: 1
UltraLife: Optional
UltraPURE: Standard
Weight Dry: 670 lbs (304 kg)
Weight Wet: 2840 lbs (1288 kg)
Water Capacity: 260 Gallons (985 Liters)
Electrical North America/Asia: 60 HZ : 240V, 40/30A
Electrical Europe: 50 HZ : 240V, 1×16/2×16/1x32A
Pumps North America/Asia: 60 HZ : 1 x 4.0/(2.5) HP Dual Speed Pump. 1 x Circulation Pump
Pumps Europe: 50 HZ : 1 x 3.6/(2.0) HP Single Speed Pump. 1 x Circulation Pump
Monthly Operating Cost: $9.16
View Other Hot Tubs In The
Offering The Best Warranty With A Lifetime Guarantee
The UltraLife™ shell is structurally warranted not to leak and the texture provides a non-skid surface that is not prone to scratching, dulling, or crazing. It is the most durable shell material you can find on the market today. UltraLife™ white picks up the LED lights in your spa, making it safer to enter and exit. Any shell expenses will be covered within the first 7 years, and all expenses other than shipping are covered after 7 years.
Dimension One Spas' beautiful skirting is covered with a 7 year warranty that covers defects and structural integrity. Our exclusive Terracina™ skirting has the look of real wood without the upkeep. This skirting will not crack or fade and does not require staining. This warranty includes Envirotect®, which is made with environmentally friendly, recycled materials and is extremely durable and weather resistant.